TerrHimself's Secret Tumblr
May 10
My friends and I work hard to share our love of geeky/nerd popculture and report on such things. Check out www.TheNGUonline.com
May 08
Behind the glass
I figured I would take a minute to share a poem I wrote a few years back and include the notes that went along with it.
From January 10,2009

BEHIND THE GLASS
You mocked me from behind the glass.
You hoped that you wouldn't be seen,
But I saw you…
You shook as you came closer.
You saw the ground far beneath you.
I was not going to catch you
I was going to let you fall right before my eyes.
And I did
and when you fell from grace I smiled.
I picked you up and devoured you.


Munchos





The other day at work, I really wanted a bag of Munchos from the vending machine, but there was a bag of Ruffles in front of them. I've been waiting more than a week for someone to buy these damn Ruffles so I could get to the munchos. I couldn't take it anymore so I bought the Ruffles to get to the Munchos.
AND THEY WERE FUCKING DELICIOUS
hope you enjoyed poetry written by a bored temporary receptionist. 

-Terr
Jan 29
SPARTACUS GIVEAWAY
Hey guys,
Anybody want these posters?

Each poster is 27x41 inches. 
FREE!

All you have to do is go to http://t.co/fM5GHhhI and answer the question on the bottom and I'll send the posters to you. 

absurdly simple.


- Terr and your buds at TheNGUonline.com 
Jan 02
2012 resolutions - ACCOMPLISHED
Keeping track of my New Years Resolutions
Original Post 7/23/12:

I made 2 of these.  The first one isn't going so well. It was to write more. If include that stuff I've written for work, I would be doing fine. But I don't count that stuff. So yeah….uhhh…
The second New Years Resolution was to read more. Specifically, read at least one book per month.  Here's what I've read so far (not including comic books and graphic novels):
The Hungers Games
Catching Fire
Mocking Jay
Princess of Mars
Gods of Mars
Warlord of Mars
Thuvia, Maid of Mars
Abraham Lincoln, Vampire Hunter
The Lovely Bones

and I just started reading The Strain
note: i'm not a slow reader or anything. i just have a lot of other things going on. and there's also the stuff i have to read for work. aaand the comic books that i spend more money on than i should
EDIT 8/26
I finished THE STRAIN (book 1) and enjoyed the shit out of it.   I just picked up ALOHA FROM HELL. I hope i like it since i've read that other 2 books in this series.



edit 1/2/13:

Books I read
The Hungers Games
Catching Fire
Mocking Jay
Princess of Mars
Gods of Mars
Warlord of Mars
Thuvia, Maid of Mars
Abraham Lincoln, Vampire Hunter
The Lovely Bones
The Strain
Aloha From Hell
Alice's Adventures in Wonderland
The Chessmen of Mars
The Art of War
Not a lot of books by any means, but i had a goal and I exceeded it. BOOM.
and I did a whole bunch of writing for the website I run with my friends, TheNGUonline.com

so 2012 resolutions are done. now to work on my 2013 resolutions.
Dec 16
Just to clarify my stance on some things from my previous entry

- I support good parenting and mentorship to establish future generations that know right from wrong, who are caring to their family, friends and neighbors, and can help themselves and those who need help.

- I support establishing a proper healthcare system where people, especially those with mental health issues, can get proper diagnosis and treatment.

- I do support the 2nd Amendment not because I want to kill people, but because it represents what I stand for: The ability to have the tools and skills necessary to protect and serve the innocent and those in harms way, and to protect the freedoms I was born into and that my parents sacrificed and worked hard to obtain by immigrating and becoming American citizens.
- I support responsible gun ownership. There are millions of law abiding gun owners who are unfortunately grouped together with a very small fraction of people who do bad things.
-
we hear of occurrences when a child gets his hand on a firearm and kills himself of another sibling, but that comes from parents irresponsibly storing their gun where kids can reach it and also not teaching a kid to not touch guns and things t
hat don't belong to them. Like I said in my previous entry, there are dozens of things that should've happened before an innocent person is killed with a gun.
- Just weeks ago during Hurricane Sandy, thousands were out of power and phone service and so many instances of break-ins and looting. 911 couldn't save anyone then. How often do you hear of calling 911 and police arriving in a nick of time? Average response time for police to arrive via 911 call is 7-8 minutes. When its life and death, seconds count. If a problem arose, and a 911 call meant that a well trained police officer(s) could instantly appear and save me and my loved ones, i would be all for it.
We have to be our own first line of defense. It would be irresponsible of me to put my safety in someone else's hands. Like I tried to convey in my previous entry, I don't believe in relying on an ineffective system when i can get the education, tools, and training to solve my own problems.
-There are definitely people who glorify guns and have illusions of grandeur because of the money they've spent on a tool used for killing. I don't believe that every civilian should be armed. I believe the men that wrote the amendment and the people who defend its modern interpretations mean to include giving people the ability to defend themselves when the need arises.
-Part of the problem is that when someone picks up a gun, they are instantly given the ability to instantly take a life with a gun. They often don't have the respect for life and problem solving skills to know when using a gun is the only/last option.
Like I said in my previous entry, if we took all the guns away, we'd only be treating symptoms of the disease. Even if we got rid of all the guns in the world, people who want to do bad things will still be able to do bad things. We have to have better, more educated people, who can constructively solve their own problems. We have to be able to help those who need help, especially those with mental health issues who can be a danger to others and themselves.
I think the moment we start sacrificing one freedom, we allow for the sacrifice of other freedoms.
Dec 14
Stepping onto the soap box for just a sec
Dec 13
[video]
Nov 19
BTW
my friends and I launched a website. Still working out some kinks, but it's up and we're pretty stoked on it.

www.NeverGrowUpOnline.com
Check it out.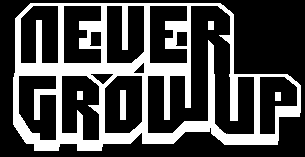 Nov 08
[video]
Nov 05
my friends and i are making a website.
because there aren't enough popculture, fanboy sites.
details and links and all that other dumb stuff soon. 
never grow up